How will the Snuffle ball entertain your pets?
Smell Training Ball:

Many deep collections help your pet sniff the balls from many folded circles. The owner can hide food between the fabrics and encourage your pet to smell and find snacks or small toys inside the ball.

Excellent Quality:

The sniffing ball has been made of high-quality felt cloth, which is smooth and pet skin-friendly, durable, and will not cause any discomfort for your dog. Also, it is machine washable.

Stress Relief:

This snuff ball for dogs consumes your dog's energy and helps lose weight. Your dog's overall health improves by using these toys, and also it prevents anxiety, stress and destructive behavior.

Ideal for Dogs:

Sniffing the ball is an excellent activity for your dog. It is suitable for hiding small treats and biscuits. You can train the dog's brain for agility through natural foraging skills, consume the dog's energy, and prevent them from destroying furniture.
Product Specifications:
Colors: Multicolor
Sizes: 6 inches, 7.8 inches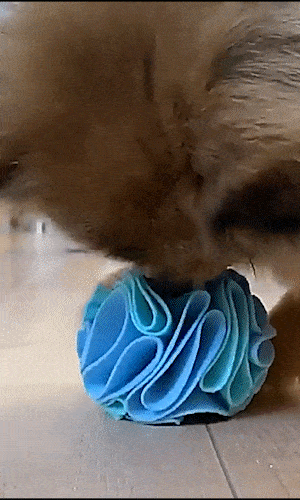 Waggle Merch Delivery Time - 5 to 7 Days.
Digital Products - Delivery Time 24 - 48 Hours.
Toys, Beds , Grooming Supplies - Delivery Time - 10 - 12 days.
Flat 10 % on All Orders for New Customers 

USE CODE : WAGGFLUENCE10
FLAT 20% - BUY 2 Get 20% Off 

USE CODE : DOG20 or CAT20